Current COVID-19 cases at Yee Hong
Residents: 0
Staff: 0
Staff and family members receive detailed information by email when case counts change at their LTC Centre.
Yee Hong responds to COVID-19
Last updated: Jul 15, 2021, 3:55pm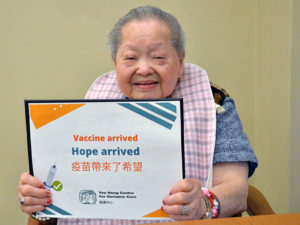 Call the Yee Hong COVID-19 Vaccine Support Hotline 416-412-4570 to get more information on COVID vaccinations. We are open Monday-Friday, 9am-5pm, if you need help to schedule a vaccine appointment in Toronto, Peel or York Regions.
Operating Services
Current as of:
Programs and services listed below are running as normal:

Long term care for residents of Yee Hong Centre

Scheduled visits for family (indoor and outdoor)

Other Yee Hong facilities

Yee Hong P. K. Kwok Hospice
Yee Hong Garden Terrace
Chinese Evergreen Manor

Community Services

COVID-19 Vaccine Support Hotline
Active Seniors Program (online, limited)
Care-Learning online information and resources
Caregiver Education & Support Services (online support groups and education webinars)
Community Services Online
Day and congregate dining programs (limited in-person attendance or online)
Assisted Living and Home Support Services
North Toronto COVID-19 Community Response Team
Paid home care services
Training and Learning Centre – PSW program (online)
Volunteer Services (limited in-person and Hot meals & grocery support services, virtual support via online or comfort phone calls)
Yee Hong Meals on Wheels Services
Cancelled/Suspended Services
Current as of:
Programs and services listed below are cancelled/suspended until further notice:

Volunteer Services (in-person services suspended at LTC centres)
Transportation services
Caregiver Education & Resource Centre (in-person)
Active senior programs (in-person)
July 15, 2021 – Access and testing at Yee Hong Centres
This week Yee Hong received new instructions from the Ministry about visiting, screening, testing, absences and more. These are exciting changes that will relax the COVID restrictions at our Centres in the weeks to come.
Yee Hong is reviewing Ontario's new guidelines. Drop-in visits are already permitted indoors with our residents, and visits outdoors or by Video Chat can be booked on our website. Other measures will be introduced in phases at all Yee Hong Centres. Watch for updates from Yee Hong as we implement the new rules in July.
July 12, 2021 – Visiting at Yee Hong Centres
The government has eased restrictions in LTC that affect Yee Hong's Visitor Policy. Several rules have changed:
Residents can have outdoor visits of up to 10 people at a time. Online registration is still required at least one week prior to an outdoor visit.
Indoor visits with a resident are available 7 days a week without an appointment. Arrive at the front entrance of a Yee Hong Centre between 8:00 am and 6:00 pm to complete our screening process and a rapid test for COVID antigens.
Two general visitors and two designated caregivers may visit together at any one time with a resident indoors.
A hairdresser or other personal care provider can serve a Yee Hong resident by entering the building as a general visitor.
An unlimited number of caregivers may be designated for each resident. The process to designate someone a resident's caregiver has not changed.
The government makes frequent changes to pandemic limits and access to LTC buildings. We adjust our practices to comply in each of our Centres as quickly as we are able. Follow the link to review our visitor information package.
Vaccination is our best defence against the virus' worst effects. We encourage everyone entering a Yee Hong Centre to get vaccinated for their own protection and ours.
June 21, 2021 – UPDATED: Scheduled visiting at Yee Hong Centres
As the Ontario government begins a gradual reopening after the pandemic's third wave, here's how general visiting will work at Yee Hong Centres:
Book an appointment on the website
When it's time for your scheduled visit, go to the screening station. The screener will confirm you don't have any COVID-19 symptoms, exposure, or any travel history in the last 14 days.
Bring your own mask or face covering to wear during your outdoor visit. Given the current variants of concern, we recommend a good quality mask.
Indoor visitors will be provided an appropriate surgical mask for their visit.
Keep a safe distance. Residents and their loved ones won't share food or exchange packages during an outdoor visit.
Follow best infection prevention and control practices such as proper hand hygiene.
Outdoor visits began several weeks ago for a maximum of two guests at one time. Follow the link to review our visitor information package. A maximum of one guest may visit in the resident's room if your loved one has a mobility limitation or health condition limiting an outdoor visit. If you've been waiting to sit with a loved one at Yee Hong, book your visit online. Please come back to our Centres and reconnect.
May 21, 2021 – Essential caregivers in LTC are eligible for second doses of vaccine sooner
The Ontario government has announced it will accelerate the second dose of COVID vaccine for people who must enter long-term care homes. Full details are available in the
MOH Memo
.
If you are a designated essential caregiver for a Yee Hong resident, and unable to schedule a vaccination appointment (1st or 2nd dose), please contact your long-term care home to learn more about scheduling those appointments.
May 11, 2021 – Flowers to LTC Residents for Mother's Day
On Mother's Day last Sunday, May 9, each female resident at Yee Hong Mississauga received an individually wrapped carnation and a personalized card from the local MPP Office with an inspiring, handwritten message. Staff in the Office of Deepak Anand MPP Mississauga-Malton expressed their wish to bring joy and cheer to the residents at Yee Hong Mississauga.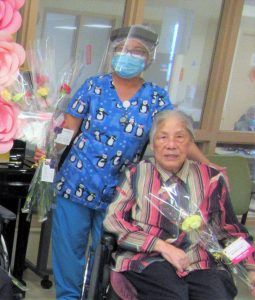 Yim Kwai Sim with Dina Rejano (PSW)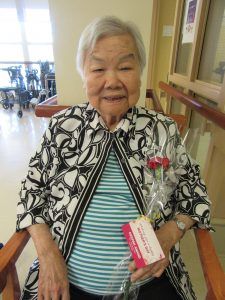 Chiu Chun Yu
May 5, 2021 – Two Mississauga Centre employees test positive for COVID-19
An employee of the Mississauga Centre tested positive for COVID-19 during recent surveillance testing. Confirmation of the employee's COVID status was received Tuesday, May 4. Yee Hong enhanced the infection control measures at the Mississauga Centre out of an abundance of caution.
Another employee who does not have contact with our residents also notified us of a positive COVID test administered outside Yee Hong, for a total of two positive tests among Mississauga Centre staff. After consulting with Peel Public Health, both employees are quarantined at home and no additional precautions are required.
Connecting Family with Residents
Video Chat
In order to support our residents and their loved ones during this time, we are providing video chat services to help our long-term care residents connect with their family members. If you would like to talk to your loved ones through video chat, please complete the online registration form below and we will get back to you with further information as soon as possible.
Video chat instructions
Using FaceTime (Apple devices only)
Using Skype
Adding Contacts in Skype
Care Package Drop-off
Family members may drop off care packages and clothing for their loved ones.
Drop-off service is available Mon-Fri 10:00am-2:00pm
DO include: clothing, reading, gifts, photos and mementos
DO NOT include: food, drinks or valuables
Items will be cleaned and disinfected by Yee Hong staff before delivery. Yee Hong is NOT responsible for any damage that occurs due to cleaning and disinfecting.
Instructions
Place items in clear packaging so contents can be easily identified
Add label with following information:

Resident's name
Resident's room number
List of contents
Your contact information
Drop-off date

Enter front door and drop off your package with staff at the screening desk
Resident Absences
Short stay absences and temporary absences are permitted for Yee Hong residents. Starting August 28, Directive #3 issued by the Ontario Chief Medical Officer of Health has loosened the visitor guidelines as well as provided direction for daily and overnight outings. These guidelines will apply:
For contact tracing purposes, all absences are scheduled by completing the online request form.
All residents will be screened before departure and upon return from their absence.
We will seek consent to test the resident upon return from their absence.
We will follow our current protocol and isolate the resident upon return from their absence, regardless of the duration of the absence, for 14 days.
We will follow our current protocols which is aligned with the Public Health COVID-19 Testing Guidance and if any resident exhibits any typical or atypical symptoms they must be isolated and tested for COVID-19 in accordance with Directive #3.
Instructions
Please note that no visitation will be allowed when an outbreak is declared in a home. A home on outbreak will follow outbreak protocol and visits and outings are closely monitored and allowed only when deemed as essential visitors.
Find out more about the 2019 novel coronavirus (COVID-19), how to protect yourself, what to do if you're sick after you travel and how to recognize possible symptoms.