Current COVID-19 cases at Yee Hong
Residents: 0
Staff: 0
Staff and family members receive detailed information by email when case counts change at their LTC Centre.
Yee Hong responds to COVID-19
Last updated: Oct 13, 2021, 1:00pm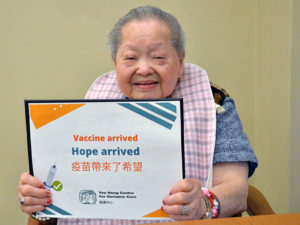 Call the Yee Hong COVID-19 Vaccine Support Hotline 416-412-4570 to get more information on COVID vaccinations. We are open Monday-Friday, 9am-5pm, if you need help to schedule a vaccine appointment in Toronto, Peel or York Regions.
Operating Services
Current as of:
Programs and services listed below are running as normal:

Long term care for residents of Yee Hong Centre

Scheduled visits for family (indoor and outdoor)

Other Yee Hong facilities

Yee Hong P. K. Kwok Hospice
Yee Hong Garden Terrace
Chinese Evergreen Manor

Community Services

COVID-19 Vaccine Support Hotline
Active Seniors Program (online, limited)
Care-Learning online information and resources
Caregiver Education & Support Services (online support groups and education webinars)
Community Services Online
Day and congregate dining programs (limited in-person attendance or online)
Assisted Living and Home Support Services
North Toronto COVID-19 Community Response Team
Paid home care services
Training and Learning Centre – PSW program (online)
Volunteer Services (limited in-person and Hot meals & grocery support services, virtual support via online or comfort phone calls)
Yee Hong Meals on Wheels Services
Cancelled/Suspended Services
Current as of:
Programs and services listed below are cancelled/suspended until further notice:

Volunteer Services (in-person services suspended at LTC centres)
Transportation services
Caregiver Education & Resource Centre (in-person)
Active senior programs (in-person)
October 13, 2021 – Free online course from McMaster University
McMaster University offers a free online learning course about infection prevention and control. This is important safety information during the global pandemic, and it is suitable for caregivers with limited knowledge. Experienced caregivers looking to brush up on their skills will also find the course content valuable.
September 20, 2021 – Mandatory vaccination policy for Yee Hong workplaces
At Yee Hong, the safety of our residents, clients, staff and workers continues to be the highest priority. Ever since vaccines have been made available, and particularly over the past few weeks, we have diligently encouraged, educated, and supported each and every member of our Yee Hong team to get the vaccine.
Yee Hong has a very high vaccination rate however, a small percentage of individuals at Yee Hong remain unvaccinated. After extensive communication with staff, physicians, unions, Resident and Family Councils and conversations with seniors sector partners, we have decided to adopt a Mandatory Vaccination Policy.
By October 30th 2021, employees without a valid medical exemption or approved human rights accommodation request, must be fully vaccinated and submit proof to work at Yee Hong. The same requirement will apply to student learners and volunteers who work in one of our Centres. Employees declining to be vaccinated without an approved exemption will be placed on unpaid leave. A volunteer or student who declines without an approved exemption will cease their in-person assignment. In the coming weeks, we will continue to support the remaining members of Yee Hong with this process.
We have carefully considered the evolving pandemic, best practice public health measures and impact on everyone before making this decision. Effective vaccines are changing the course of the global pandemic and we believe that Yee Hong's mandatory vaccination is a reasonable and necessary precaution to protect the health and safety of everyone.
Thank you for your cooperation and please continue to stay safe.
August 12, 2021 – Positive test for COVID-19
A newly admitted resident in our Scarborough Finch long-term care centre tested positive for COVID-19. Toronto Public Health assessed the risk to be low and chose not to declare an outbreak. General visiting will be disrupted for some residents and the affected residents and families have been notified.
Almost all residents and staff on the affected floor and at the Finch centre are fully vaccinated. We have adopted comprehensive infection control measures out of an abundance of caution and in cooperation with our partners at Toronto Public Health. As concluded in consultation with Toronto Public Health, this positive test is not entirely a surprise and is not expected to cause infection in others.
Connecting Family with Residents
Video Chat
In order to support our residents and their loved ones during this time, we are providing video chat services to help our long-term care residents connect with their family members. If you would like to talk to your loved ones through video chat, please complete the online registration form below and we will get back to you with further information as soon as possible.
Video chat instructions
Using FaceTime (Apple devices only)
Using Skype
Adding Contacts in Skype
Care Package Drop-off
Family members may drop off care packages and clothing for their loved ones.
Drop-off service is available Mon-Fri 10:00am-2:00pm
DO include: clothing, reading, gifts, photos and mementos
DO NOT include: food, drinks or valuables
Items will be cleaned and disinfected by Yee Hong staff before delivery. Yee Hong is NOT responsible for any damage that occurs due to cleaning and disinfecting.
Instructions
Place items in clear packaging so contents can be easily identified
Add label with following information:

Resident's name
Resident's room number
List of contents
Your contact information
Drop-off date

Enter front door and drop off your package with staff at the screening desk
Resident Absences
Short stay absences and temporary absences are permitted for Yee Hong residents. Starting August 28, Directive #3 issued by the Ontario Chief Medical Officer of Health has loosened the visitor guidelines as well as provided direction for daily and overnight outings. These guidelines will apply:
For contact tracing purposes, all absences are scheduled by completing the online request form.
All residents will be screened before departure and upon return from their absence.
We will seek consent to test the resident upon return from their absence.
We will follow our current protocol and isolate the resident upon return from their absence, regardless of the duration of the absence, for 14 days.
We will follow our current protocols which is aligned with the Public Health COVID-19 Testing Guidance and if any resident exhibits any typical or atypical symptoms they must be isolated and tested for COVID-19 in accordance with Directive #3.
Instructions
Please note that no visitation will be allowed when an outbreak is declared in a home. A home on outbreak will follow outbreak protocol and visits and outings are closely monitored and allowed only when deemed as essential visitors.
Find out more about the 2019 novel coronavirus (COVID-19), how to protect yourself, what to do if you're sick after you travel and how to recognize possible symptoms.