From golf tournaments to garage sales, events and campaigns of all sizes help support Yee Hong's mission to deliver the best culturally appropriate and culturally sensitive care for our seniors.
You can get involved by attending a Yee Hong featured event, supporting a community initiative, or even organizing your own campaign to benefit Yee Hong Foundation. Find out more below.
Featured Events and Campaigns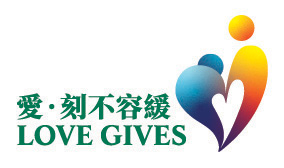 Love Gives Capital Campaign
Canada's population is aging and the trend is rapidly increasing. We have more than 6 million seniors over the age of 65 now and the wait time for a Yee Hong long-term care bed can be as long as 10 years, compared to the provincial average of 152 days!
To tackle this urgent problem, Yee Hong is planning to build 3 new centres in Scarborough, Markham and Mississauga, doubling its current capacity of 805 long-term care beds to 1,605 beds. Total construction costs are estimated to be $300 million.
We need your support! The first step is to raise $80 million to get the construction of the new buildings started. Remember… Love Gives!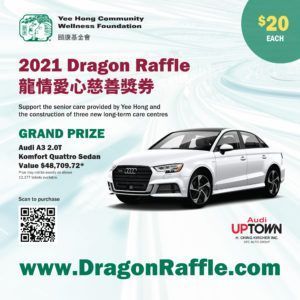 Dragon Raffle
Our annual Dragon Raffle is back, offering a grand prize of an all-new Audi A3 Komfort Quattro sedan! Buy a raffle ticket for a chance to win and help support our seniors!
2021 Dragon Raffle
www.dragonraffle.com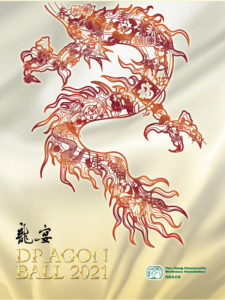 Dragon Ball
The 32nd annual Dragon Ball , the signature fundraising gala of Yee Hong Community Wellness Foundation livestreamed on February 13, 2021, was a tremendous success. An incredible amount of over $600,000 was raised in support of senior care at four Yee Hong centres and the construction of three new long-term care homes.
Dragon Ball 2021
Sat Feb 13, 2021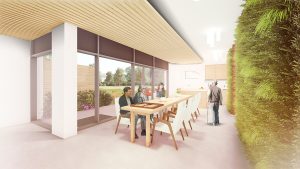 Peter K Kwok Hospice
In order to meet the increasing demand for palliative and end-of-life services in Scarborough and across the GTA, Yee Hong has opened the Peter K Kwok Hospice at the Yee Hong Centre – Scarborough Finch – a home setting where families can spend meaningful time with their loved one while he or she is assisted by Yee Hong's professional caregivers.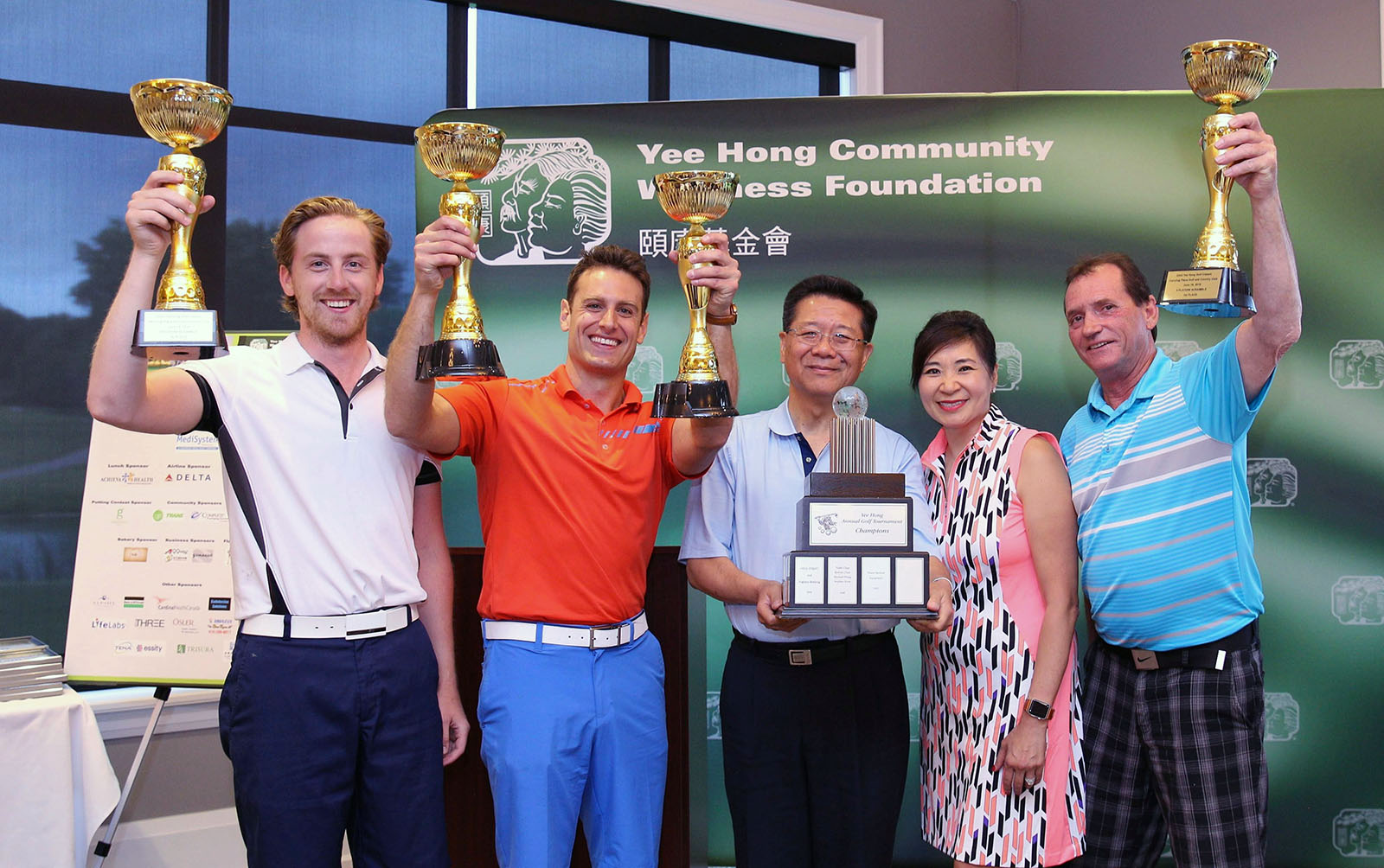 Golf Classic
Enjoy a round at the Yee Hong Golf Classic, our annual charity tournament held at notable courses around the GTA, and help support our seniors!
2021 Yee Hong Golf Classic
Tue July 27, 2021
Carrying Place Golf & Country Club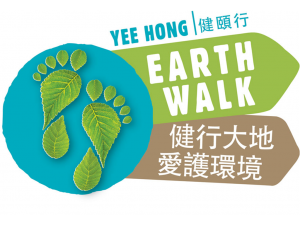 Earth Walk
It's time to take action to care for our planet. A healthy lifestyle and a healthy environment are the two goals of the Yee Hong Earth Walk. Together, we can improve our environment!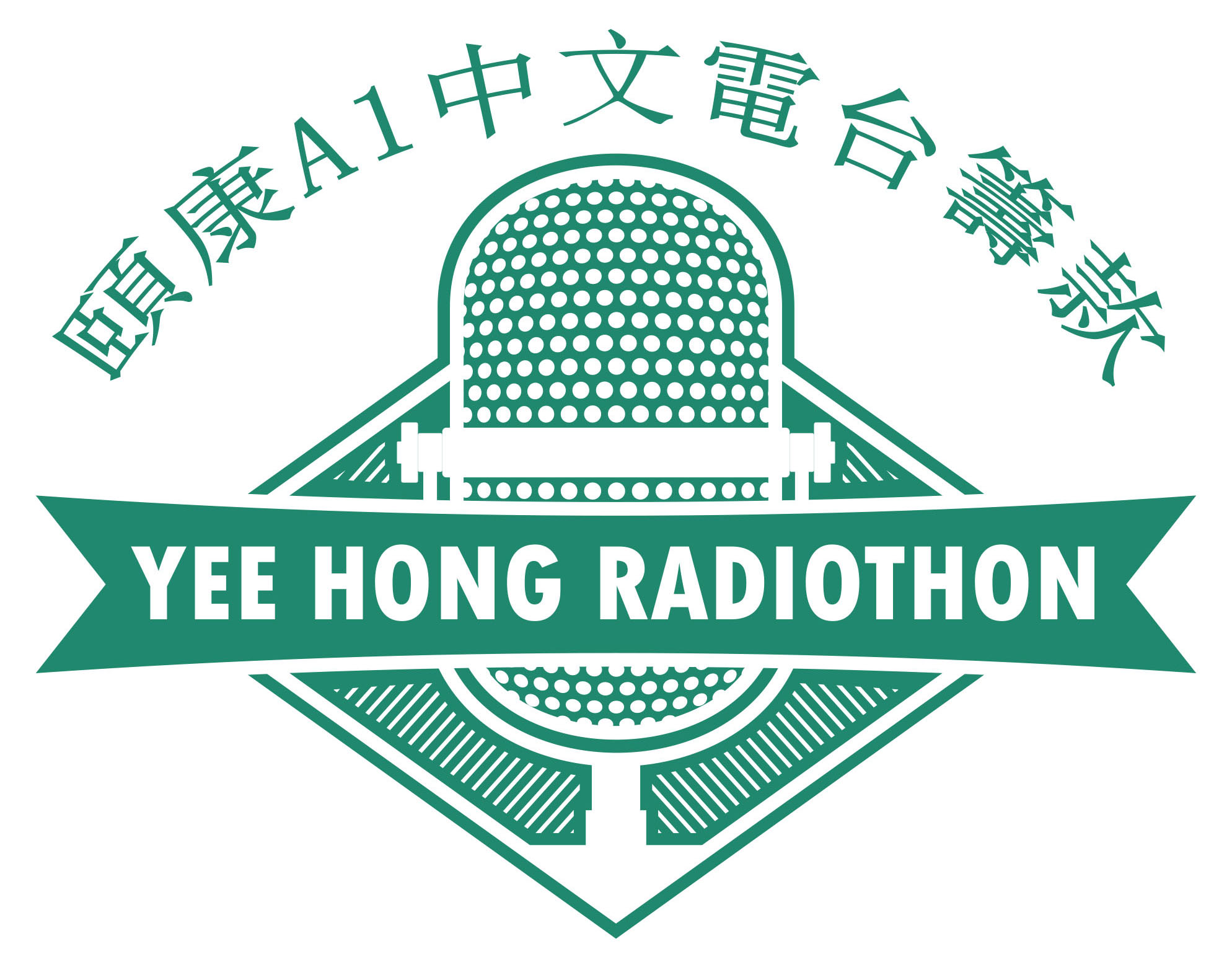 A1 Radiothon
Tune in to A1 Chinese Radio (AM 1540) on Nov 13 for Yee Hong's Radiothon! Listen to special stories in addition to your favourite programs, and show your support for Yee Hong.
2020 Yee Hong A1 Radiothon
Fri Nov 13, 7am-6pm
A1 Chinese Radio AM 1540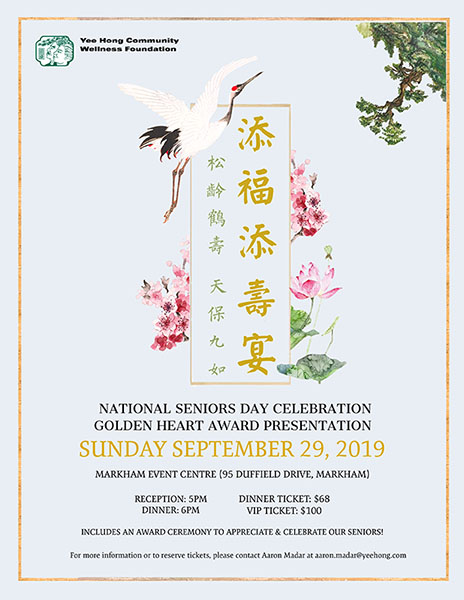 National Seniors Day Dinner
Celebrate National Seniors Day with Yee Hong, and help us honour our seniors for their lifelong contributions to our community!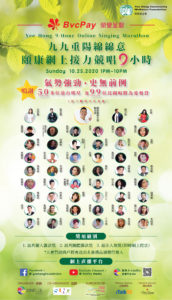 Yee Hong 9-Hour Online Singing Marathon
The pandemic may have disrupted our lives, but it has not impacted our love for our seniors. In support of our frontline workers who care for our seniors, keeping them safe and healthy, and to fundraise for our expansion plan to build three new long-term care centres in the near future, we are hosting the Yee Hong 9-hour Online Singing Marathon on October 25, 2020.
Yee Hong 9-hour Online Singing Marathon
Sun October 25, 2020
Youtube, Facebook or Xinflix
Performer registration is FULL!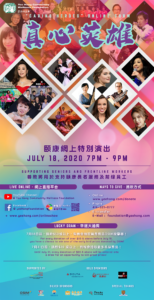 "Caring Heroes" Online Show
Long-term care residents are some of the most vulnerable during this pandemic and our frontline workers are doing everything they can to keep them safe and healthy. Join the "Caring Heroes" Online Show to honour the frontline staff of the Yee Hong team.
"Caring Heroes" Online Show
Sat July 18, 2020, 7pm-9pm
Youtube, Facebook or Xinflix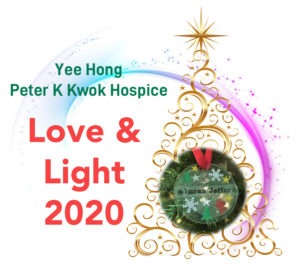 Love & Light 2020
Yee Hong Hospice invites you to attend the first annual Love and Light commemoration event online via Zoom. A cheerful holiday event with a beautiful tranquil setting to illuminate the memory of your loved ones, together with the warm embrace of all guests and participants virtually.
Love & Light 2020
Fri Dec 18, 6:30pm
Online via Zoom
Third-Party/Community Events and Campaigns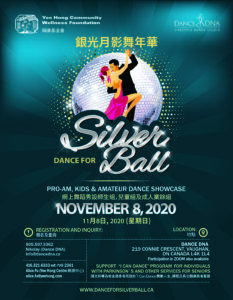 Silver Ball
Parkinson's disease is one of the most baffling and complex of all neurological disorders. The cause is unknown and there is no cure.
In 2017, Yee Hong Centre partnered with Dance DNA to develop the "I Can Dance" fitness program for individuals with Parkinson's disease or other Parkinson-like illness, so that they can experience the joy and benefits of dancing.
This pilot project demonstrated encouraging results, showing a positive impact on improving patients' motor movements and balance. It also provided a social support network, helping to reduce depression and build self-esteem.
"The most effective achievement of the Dance Program is to provide physical exercise, social communication, and by learning dancing, dancers feel happy… I surely have gained, in the last few months, the benefits of dancing," said a client.
This successful dance project has become an ongoing program since 2017. Silver Ball has been an annual fundraiser to showcase the "I Can Dance" program. Unfortunately, due to the coronavirus pandemic, we are not able to hold the gala this year. But we have to continue providing support for those in need in the community.
We have persisted with the weekly dance program despite the COVID-19 lockdown by providing online dance classes in the last six months. We cannot allow interruptions to the significant progress and momentum we have built for our Parkinson clients. It helps to keep everyone active physically and mentally that are needed during our new normal life in coping with the pandemic.
In the absence of an in-person Silver Ball gala, we are pleased to invite you to join us for an online show on November 8. We are proud to showcase our dance group. You will witness how the dancing program benefits Parkinson's patients both physically and mentally, most started with no dance background, had challenges with mobility, coordination and balancing. Our clients want to showcase how to live an active and happy life through dancing and you will see it through these dance performances.
The online show's link will be sent to those who have registered. The event is free of charge. Please join us in support of the "I Can Dance" program and our Parkinson clients.
For more information or registration, please contact Alice Fu of Yee Hong Centre for Geriatric Care at 416-412-4571 x2361 or email to alice.fu@yeehong.com; or get in touch with Nikolay Smodlev of Dance DNA at 905-597-3362 or info@dancedna.ca.
Please consider making a donation to support this great cause at www.yeehong.com/donate (for Donation Purpose, please select 'Silver Ball') or call 416-321-0777.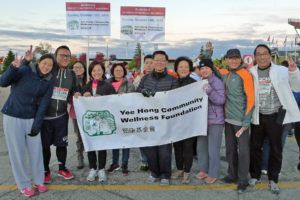 Scotiabank Toronto Waterfront Marathon
Since 2008, Yee Hong Foundation has entered a team for the annual Scotiabank Toronto Waterfront Marathon. Thanks to our dedicated supporters, we have always finished in the top three of charity teams that raised the most money per participant!
Please help us continue our success and donate to our 2021 team: